MXR01SR Sub Rack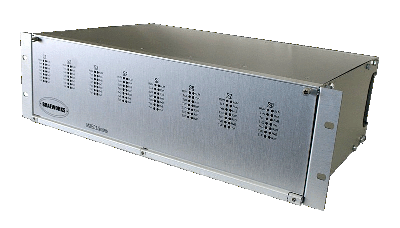 Introduction
The MXR01SR is a 19 inch sub rack to accommodates up to 8 modules with a total of 48 communications circuits. The modules can be fitted by users as required. Each signalling circuit is terminated into RJ45 8 way connectors on a rear mounted motherboard, suitable for CAT5 UTP type patch cords and cabling. The sub rack provides power supply input and alarm circuit terminals. The sub rack has a hinged front panel and a hinged rear panel for easy access. The sub rack contains no active components, all serviceable components are fitted to the installed modules.
Power Supply and Alarm Circuit Termination
The power supply inputs and alarm circuit outputs are terminated onto pluggable compression wiring terminal blocks, and can be split to provide two isolated sets of circuitry.
Signal Connector Layout
Each module has separate set of RJ45 connectors arranged in a column of six RJ45 connectors. The module connectors are arrange in eight columns, one column for each module, across the sub rack on the rear mounted motherboard. The motherboard has spaces provided for annotation of connections, along with permanent connector references.
System Annotation Features
The sub rack has several features for annotation, or labelling, modules, connectors and circuits.
The front panel has a silkscreen legend, behind the panel, for user annotation on each module fitted.
Also the rear panel has a silkscreen legend behind the panel, for user connector/circuit annotations.
Email: enquiry
Catalogue Number: MXR01SR-RJ45